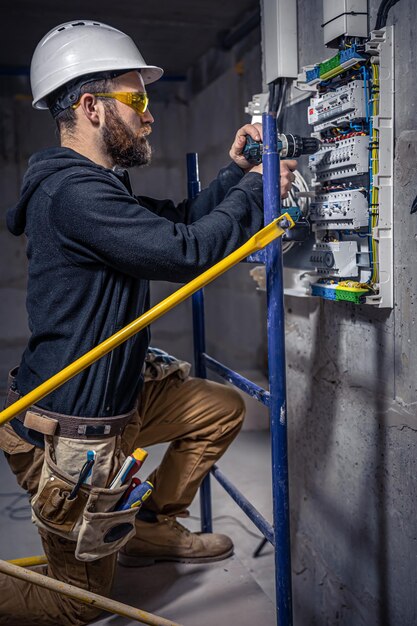 Electricity is a necessity in our modern world. It makes us comfortable, saves time, and makes our lives easy. But with all this comfort, electricity sometimes becomes nerve-racking. Power surges, faulty wiring, and improper installations prove to be harmful and dangerous. So, the question is how can we completely avoid electricity malfunctions and secure our home? The best way is to get prepared beforehand, notice the signs and warnings that appear, and then call a professional electrician in your local area who knows how to solve the problem and issues. If you are living in Port St Lucie and need a local electrician you should contact My Electrician. At My Electrician we have licensed and efficient service professionals who analyze all electricity-related problems and root them out without disturbing your home.
Indicators to call a professional electrician in Port St Lucie
Here are some signs that could be indicators that involve a professional electrician.
1. Inconsistent power
Inconsistent power is a common problem. When you turn on a light or any appliance and it flickers, dims, or trips a breaker, it means that your system is facing electricity inconsistency. This can prove to be damaging or dangerous if remained unchecked. The dimming of light also falls into this category. This happens because of the irregular supply of the current or too much current being used. This can damage your whole system and affect any appliances.
So what should you do to solve this problem?
Well, calling a qualified electrician in Port St Lucie and leaving this matter to the professional is a wise decision.
2. The outlet or plugged in appliance feels warm or you notice a burning smell
If you touch the outlet plate or appliance and it feels hot then it is an alarming sign. Every electric outlet is designed to carry a specific amount of current but if the limit increases and there is high wattage then this can be serious. So one should not overload the outlet. But what happens when the outlet is not overloaded and still gives out the burning smell?
This happens due to a broken, cracked, or chipped outlet or wire.
This is a serious issue, so it is necessary to get this addressed at once as it can lead to fire. For this, you should contact an electrician for the sake of your security and safety. At My Electrician, the licensed electrician know how to identify the problem and root it out safely without causing damage. It is important to replace the insufficiently gauged wires or outlet with new ones to ensure safety.
3. Your electric panel is old or damaged
Most homes have modern electric panels but some may still have fuses. Its a good practice to follow the steps below to ensure a safe home.
Annual inspections help identify problems with your panel. These inspections reveal issues like too much current, burnt wires, defective breakers, and more.
When you buy an old house, get an inspection. It is always advisable to have a licensed professional check the electrical system in the entire house.
Hiring a professional electrician to service your electrical system is a must. My Electrician also offers a low cost club memberships which includes unlimited discounted or free service calls and annual inspections of your entire house.
4. Outlets spark or shock when touching
A damaged or frayed wire, improper ground, or miswiring can result in shock from the outlet. This mostly happens due to a screw and wire that are loose which causes the electricity to arc and causes sparks or shocks. These cracked, loose, or damaged wires or outlets have less resistance which provides an irregular path for current.
The second common reason for this is when you have outdated electrical wiring. The outdated system possesses no ground wire and usually uses the two-prong system. So, updating your system is important.
You should completely avoid trying to solve this issue yourself and call a licensed professional as this can be very dangerous.
5. Have GFCI (Ground Fault Current Interrupter) outlets installed per code
Ground fault current interrupters are designed to reduce the risk of electrocution. In most areas, GCFI is installed near water sources or exterior outlets. They shut down whenever the outlet comes in contact with water to prevent the risk of electrocution.
If your not sure you have the appropriate GFCI outlets installed or you don't have enough outlets then you should contact an electrician in Port St Lucie.
Our electricians will ease your difficulties related to the installation and repair of GFCIs. We will make it the process easy and safeguard your home or business.
Hire a licensed electrician in Port St Lucie
Contacting a licensed electrician ensures the work is done up to local code. My electrician understands all electrical issues and works fast to resolve them so you can be worry free.
Why contact a licensed electrician in Port St Lucie?
My Electrician provides Port St Lucie and South Florida with professional electrical services. Each electrician has more than 20 years experience at solving issues that arise correct the first time. We provide you with tips and techniques for proper maintenance of your home and general knowledge. We also have club memberships which offer savings and free inspections annually!
Contact My Electrician
If you notice any of these signs and need a local electrician in Port St Lucie then you are just a click away. Contact us here at https://myelectricianfl.com/contact-us/ and get your work done by one of our licensed electricians.